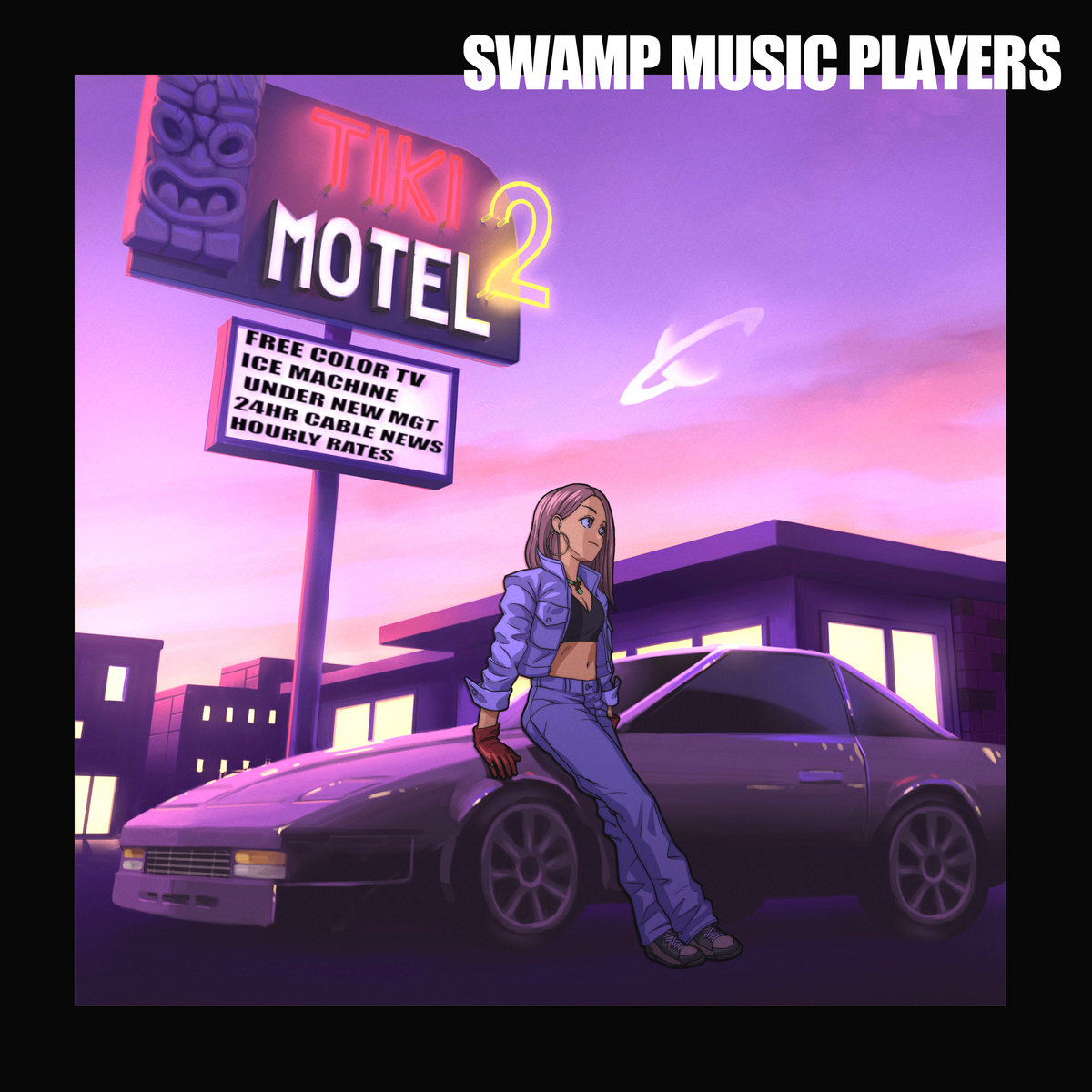 Swamp Music Players TIKI MOTEL 2 🍹🗿
'Swamp Music Players' : Victoria/Canada : Label Swamp Music Players, Inc.
Are ecstatic to finally release 'Tiki Motel 2' the followup to our overachieving lofi-EP ''555 Tiki Motel' that received significant airplay on 14 Canadian radio stations during the heights of the pandemic and charted on CFUV Victoria.
Swamp Music Players – EP/Album 'Tiki Motel 2' will be released on music streaming and to college radio across North America on October 27th 2023. Join us at the sun bleached Tiki Motel where love, suspicion and vibes intersect. An EP/album of retro-futuristic stylized American music genres of Swamp Pop, Alt Rock, Alt synth Pop and Blues.
Tiki Motel 2 was mixed and mastered by Steve Greene at the Battle Chamber as well as some added instrumentation, on various tracks.
Give Tiki Motel 2 a listen via all streaming platforms.
---
RECENT PRESS
The track, Ice Machine recently received an excellent write up via Death Or Desire.
Introducing Swamp Music Players with "Ice Machine". With its moody, sad ambiance, the song joins the ranks of similar artists like Chromatics, Kandle, Electric Youth, and College.
What sets "Ice Machine" apart is its unique blend of synthwave and jazz we think personally, highlighted by a subtle soft snare percussion. Written by Hollywood's Sugar Parks, the track spins a haunting tale set at the infamous Tiki Motel in California—most notably known as the seedy location in the 1980s film 'The Terminator.' The narrative is a pretty gripping one too, following a woman who takes the life of her spouse's lover. As she grapples with her actions and thoughts, she becomes increasingly aware that the police are closing in on her. The music captures this tension and internal turmoil masterfully, turning "Ice Machine" into a mini-noir film for the ears. This emotionally charged single paired with the compelling musical backdrop makes "Ice Machine" more than just a track, but an experience.
RECENT PRESS
INDIE AM
Saturday October 28, 2023. – https://groover.co/
Alejandro Balcazar
"Tiki Motel 2" is an album of alternative Swamp Rock and Swamp Pop songs inspired by the atmosphere of the Tiki Motel. These American musical genres merge into a retro-futuristic underground style. Join us at the sunny Tiki Motel, where love, intrigue and vibes intertwine. The release date of this album is October 27, 2023.
Swamp Music Players is an international collective with roots in Canada, who share a passion for retro music. Our music has been broadcast on college radio stations in Canada and has gained extensive exposure on FM radio stations in Europe and Latin America. Additionally, we have contributed to independent film projects and are excited about our participation in the independent film "Ninja Commando 2" that will be released in 2024.
---
There was a visualizer video created for the track, Free Color TV (featuring Hilary Beckett) via the Swamp Music Players YouTube channel.
For other tracks by Swamp Music Players and other artist that have worked with Steve Greene, visit the Sounds page.