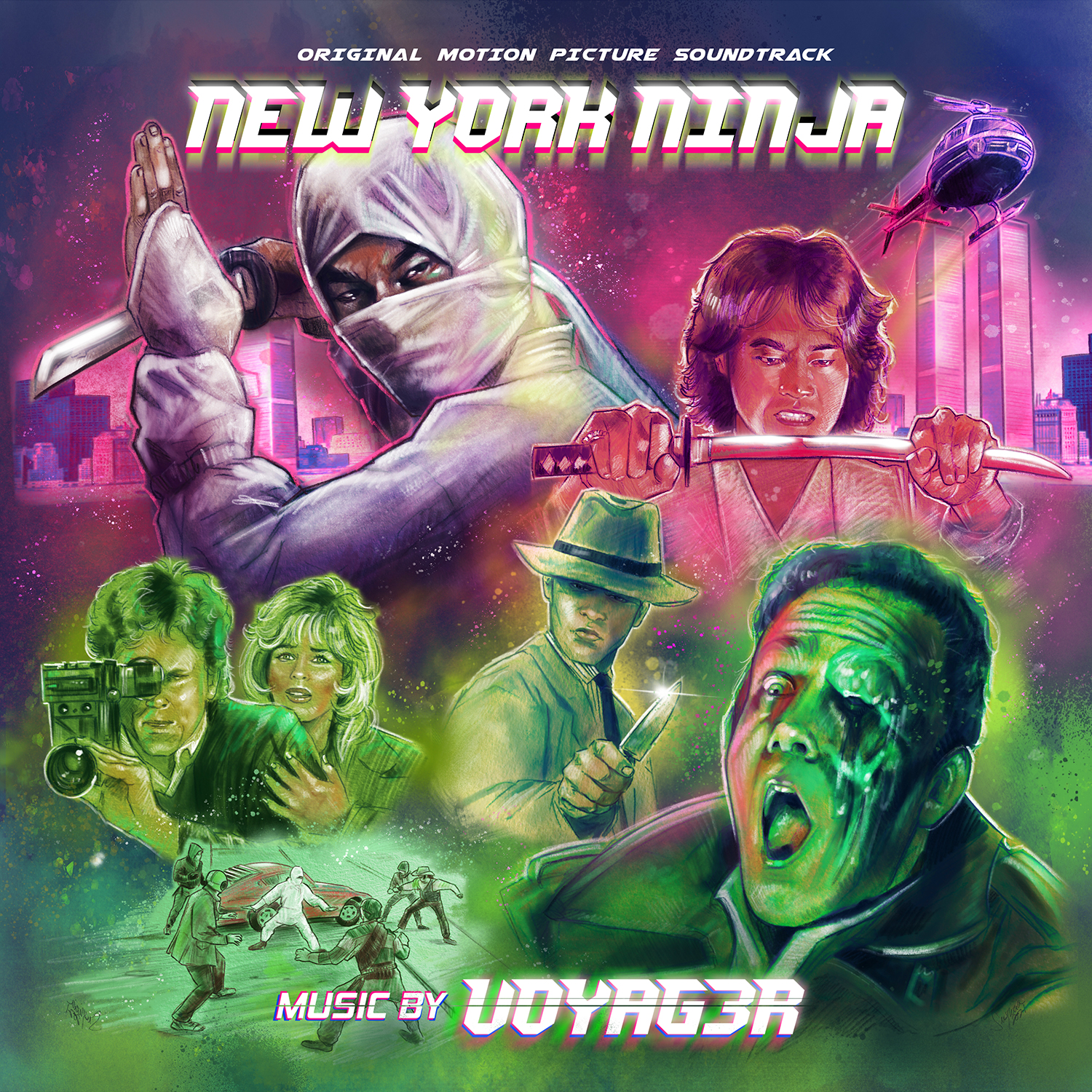 The 4th studio album from Detroit's Voyag3r (pronounced Voyager 3), New York Ninja (Original Motion Picture Soundtrack), is out now on CD, Cassette and Vinyl! The film score was written and performed by Voyag3r and recorded, mixed and mastered by Steve Greene, at the Battle Chamber Studio. Artworks by Suspiria.
Formats
• CD (all 30-tracks) – Battle Chamber Music
In jewel case with tray card and fold-out booklet. Full color disc print
• Cassette (20-track sequence) – Battle Chamber Music
"Plutonian Killer Green" [SOLD OUT]
"Vengeance Red"
• Vinyl (19-track sequence) – Mondo/Death Waltz Records
Vinegar Syndrome Vinyl Variant – Bone White with Silver Splatter [SOLD OUT]
• Digital & Streaming
Available January 7, 2022 at Voyag3rStore.com • iTunes • AmazonMp3 • Spotify • Tidal • Apple Music • Pandora • iHeart Radio • Deezer • YouTube Music
About the Film New York Ninja
Originally directed by and starring martial arts actor John Liu (The Secret Rivals, Invincible Armor) in his only American production, New York Ninja was filmed entirely on 35mm in 1984, but the project was abandoned during production resulting in all original sound materials being lost over time. 35 years later, Vinegar Syndrome acquired the original unedited camera negative and painstakingly constructed and completed the film. Enlisting the voice talents of genre favorites: Don "The Dragon" Wilson (Bloodfist, Whatever It Takes), Linnea Quigley (Return of the Living Dead, Nightmare Sisters), Michael Berryman (The Hills Have Eyes, Auntie Lee's Meat Pies), Vince Murdocco (Night Hunter, LA Wars), Matt Mitler (The Mutilator, Battle for the Lost Planet), Leon Isaac Kennedy (Lone Wolf McQuade, Penitentiary), Ginger Lynn Allen (The Devil's Rejects, Vice Academy), and Cynthia Rothrock (China O'Brien, Martial Law) Vinegar Syndrome Pictures is extremely proud to present this truly one of kind film experience. Restored in 4K from the original camera elements, New York Ninja is finally available in all of its ridiculous over-the-top glory for the first time ever after spending nearly four decades in film obscurity.
Directed by: John Liu and Kurtis Spieler
2021 / 93 min / 1.85:1 / English 2.0 Stereo

Listen to one track from the album on our Sounds page.
Get your copy of Voyag3r – New York Ninja (Original Motion Picture Soundtrack) now at Voyag3rStore.com