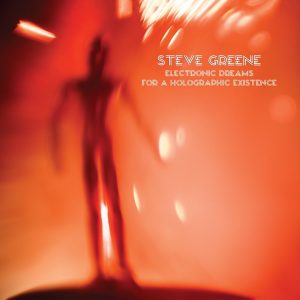 Voyag3r's Steve Greene Challenges the Nature of Reality on Solo Debut Sci-Fi Synth Album Electronic Dreams for a Holographic Existence
Electronic composer and producer Steve Greene (Voyag3r) releases his first solo album, ELECTRONIC DREAMS FOR A HOLOGRAPHIC EXISTENCE, on Jan. 26, fresh off Voyag3r's inclusion on Lakeshore Records' THE RISE OF THE SYNTHS companion album. Pre-orders for Greene's sci-fi-infused synth album open on Jan. 5 on vinyl via Bellyache Records, and in digital stores (including Bandcamp) and on CD and cassette via Battle Chamber Music.
The all-hardware, all-analog instrumental, synthesizer-driven album recalls the iconic work of composers such as Vangelis (BLADE RUNNER), Tangerine Dream (THIEF, RISKY BUSINESS), and John Carpenter (ESCAPE FROM NEW YORK, HALLOWEEN).
ELECTRONIC DREAMS FOR A HOLOGRAPHIC EXISTENCE could be a score for a film-not-yet-made, based on a lost Philip K. Dick story, that tackles the big question of humanity's relationship with technology, and if we're deeper into a technology-driven false reality than we think we are.
"The concept of the album poses the question of whether we've always been living in some type of augmented or virtual reality and we're now only becoming aware of the small hints of it in our place in existence," Steve Greene said.
Greene recorded his album's eight minimalistic, nuanced synth tracks in his Battle Chamber studio in the Detroit area, using a wide array of vintage gear: a Sequential Circuits Pro-One and SixTrak, a Moog MiniTaur and Micro Moog, Alesis Ion, MultiVox MX-202 and Roland Alpha Juno 2. He even used a Rhodes Mark V electric piano on some songs. He also played saxophone. The results make for a moving experience.
"I believe it's all a personal preference and my preference is hardware synthesizers and real instruments," Greene says. "In general, tactile manipulation and physical performance is where it's at for me. That approach just feels and sounds real — unique character and even imperfections all make for a vibe that I can connect with."
On ELECTRONIC DREAMS FOR A HOLOGRAPHIC EXISTENCE, Greene has distilled the sum of a life of diverse musical influences and experiences into a compelling eight-song instrumental album. Whether or not listeners get enveloped by Greene's pondering of some degree of singularity, they are sure to experience something that stays with them after the album's final note ends.
"I'm sure it will mean different things to different people," Greene said. "I'd feel like I accomplished something if this album took some listeners to places, in their mind, they might not normally go."
Track listing:
Side 1
1. "Triad of the Dark"
2. "Machines, Schemes and Manipulations"
3. "Aerial Maneuvers"
4. "Gravitationally Bound"
Side 2
1. "The Hoax"
2. "The Great Barrier"
3. "Revel in Your Time"
4. "Expanding Symmetry"
ABOUT STEVE GREENE
Since 2013, the metro Detroit-based Greene has been the synthesizer player and keyboardist for synthy/prog/sci-fi rock band Voyag3r, alongside guitarist Aaron Greene and drummer Greg Mastin. In addition to their song on the companion record to the international TROTS synthwave documentary, the band has released two well-received full-length albums.
Greene has developed a career on his own as a composer, too, recently scoring Rob Cousineau's and Chris Rosik's sci-fi/dark comedy film FUTURE, for which Greene won Best Score at the 2017 Genre Blast Film Festival in Winchester, Virginia. In 2015, he composed the score for PORTAL TO HELL!!!, Vivieno Caldinelli's short film starring the late Roddy Piper.
Greene also runs the Battle Chamber, a recording studio outfitted with analog and digital gear. He primarily offers mixing services, but offers production packages when timelines and budgets fit.
CONNECT WITH STEVE GREENE
For more information on Greene and the album, or for interviews, contact battlechambermusic@gmail.com. Greene is also on Twitter and Facebook.
If you are interested in reviewing ELECTRONIC DREAMS FOR A HOLOGRAPHIC EXISTENCE for your publication or website, please reply with a download request. Steve Greene is also available for interviews or a radio/podcast guest.